Overview
Company: Noggin
Location: Sydney, NSW, Australia
Founded: 2005
Industry: Integrated Safety & Security Management Software
Awards
2021 Grow Better Website Design Impact Award
The Challenge
Noggin is the world's leading platform for integrated safety & security management. They're committed to helping communities and organisations manage disruption, smarter. They've helped hundreds of companies globally since their founding in 2005.
Noggin required a website that clearly represented their innovating and industry-leading software to their target audience. Their previous site had served its purpose, however, it was misaligned with the companies goals and position. Its performance had slowed due to a confusing customer experience and content that was not up to date. The difficulty this created for the audience, meant they were not able to portray the quality of their product, hindering the conversion rates on the website as well as leaving the Sales Team with unrefined online leads.
Noggin's Marketing Manager Britt Lincoln approached ThirtyFour Creative to help solve their problem. As the central source of their lead generation for their global brand, their website was crucial to communicating their true value and brand identity. It needed to be a hub for potential and existing customers to find educational information and to convert visitors into qualified leads for the Sales team.
The business uses HubSpot for its marketing and sales processes and aligned it with its website built on HubSpot CMS. They needed guidance from a HubSpot Partner that would solve their initial problem while also having a deep understanding of the HubSpot platform to ensure the project was viewed with an all-encompassing and unified solution.
ThirtyFour Creative was given the opportunity to perform a digital overhaul, creating an aesthetic that truly reflected the position and value of the company with a new website optimised for inbound growth and to create a Growth-Driven Design program, allowing us to work alongside Noggin and support their digital growth into the future.
The Solution
Our first priority was to understand the performance of the old digital presence. We began with a comprehensive brand and website audit that uncovered key points that we needed to address:
Information architecture was creating a confusing experience for potential customers, creating a barrier for them to convert.
Misalignment between their products core purpose of "manage disruption, smarter" and having an experience that was disrupting the buyer journey.
Website pages with high value were underperforming and under informing.
80% desktop traffic
It was clear that we needed to provide more information about how the platform will solve the problems the customers were facing in their business, rather than just listing out all the features it has, improve the user experience and build a responsive website that was engineered for conversion and performance.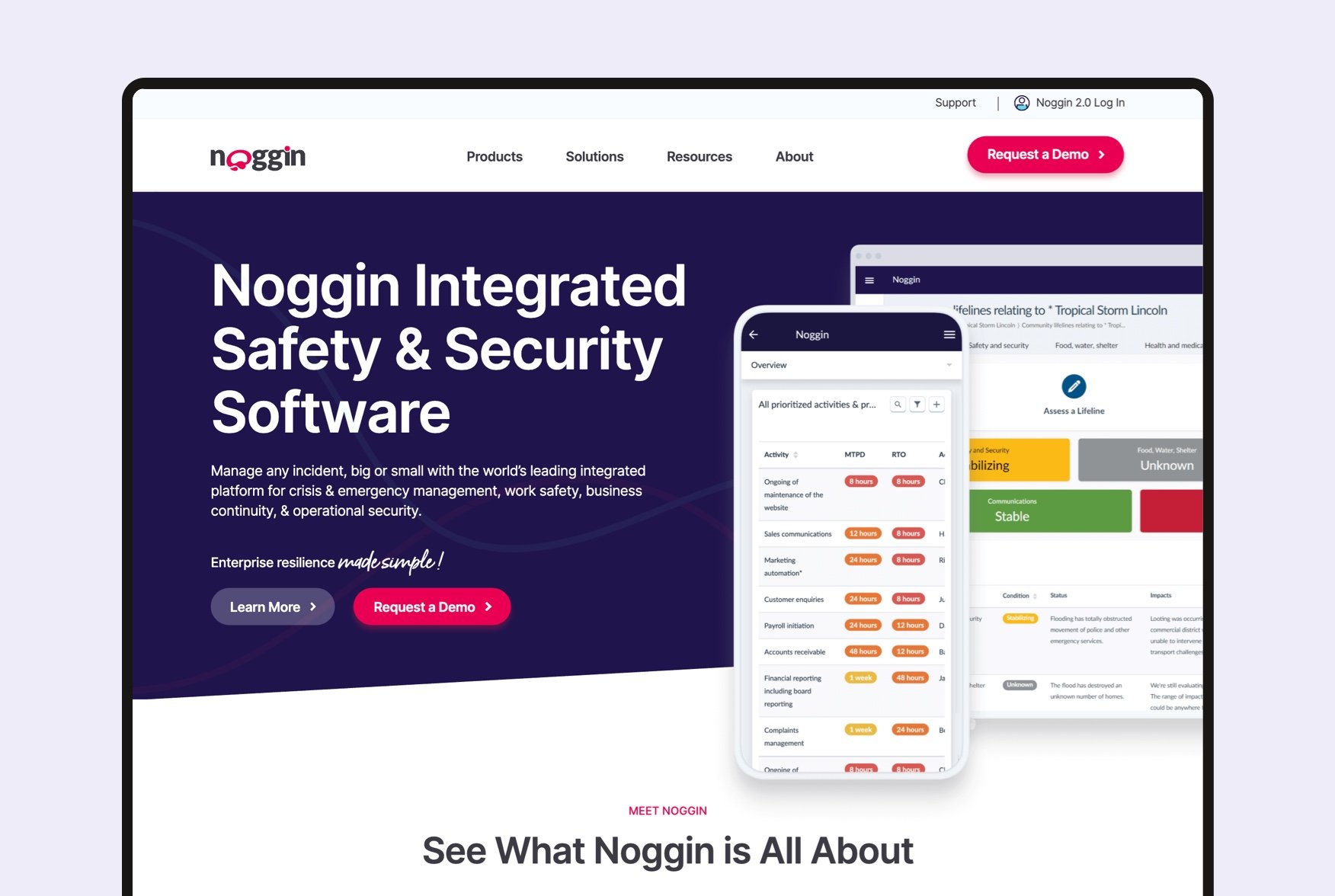 We designed new pages that showcased the platform's key features and how those features can be used to alleviate the pain that the customer is experiencing while also providing clear call-to-actions throughout their experience. We also created an in-depth menu system to support the navigation of all the solutions and the industries that Noggin has been applied to in a simple and user-friendly mega menu.
Using HubSpot HubDB tables and the creation of a Noggin library, we were able to create a database of pre-configured modules with over 25,000 assets for customers and potential customers, allowing us to showcase the value and quality of the platform.


The Result
With the initial website project complete, we began a strong growth-driven design program to make consistent strategy-driven performance improvements. We launched a resource centre, knowledge library, pillar content pages and campaign landing pages to enable Noggin to maximise conversion and deliver qualified and educated leads to Sales through inbound resources.
"The biggest impact we received from working with ThirtyFour Creative was not only a beautiful, redesigned, fantastic website that showcases our product in a great fashion but we also saw significant increases in the number of leads that we were able to generate. I believe we saw 540% increase in the number of conversions on our new site from our old site, which is massive."

Britt Lincoln - Global Marketing Manager, Noggin

Since the website was launched with its new enhanced experience, Noggin has seen a 5.4x increase in online conversion. We can also see that website usage on mobile devices has increased by 24%, giving us a clear indication that Noggin users are now interacting more as a direct result of a better customer experience and fully responsive design.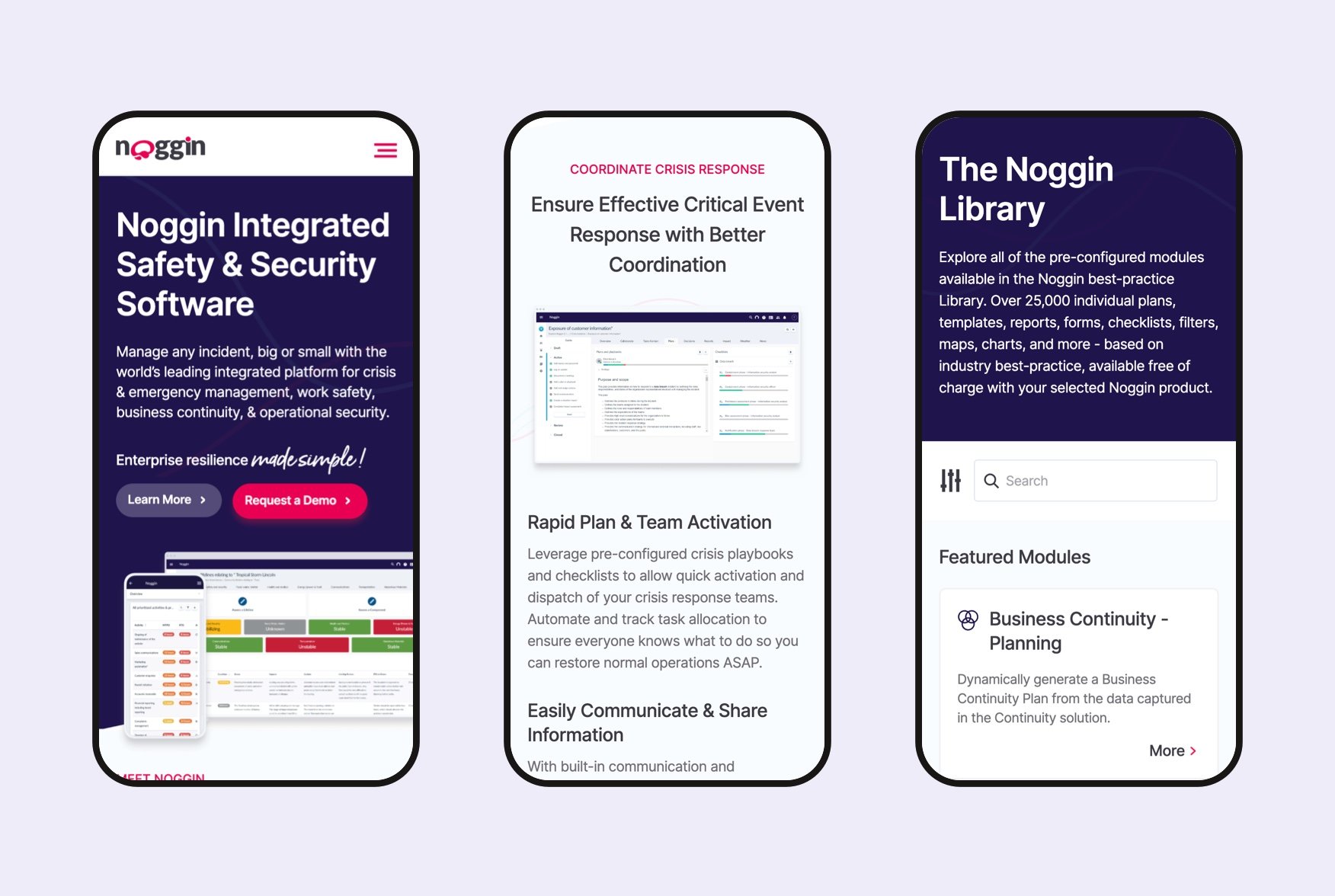 Noggin has achieved more sales qualified leads since the website launched, with an increase in average customer value, ensuring we've built a solid foundation for us to continue to build on. With no change to their marketing initiatives, other than the new website from ThirtyFour Creative and going up against a global pandemic, we can conclude that these results are directly attributed to the launch of the new inbound website.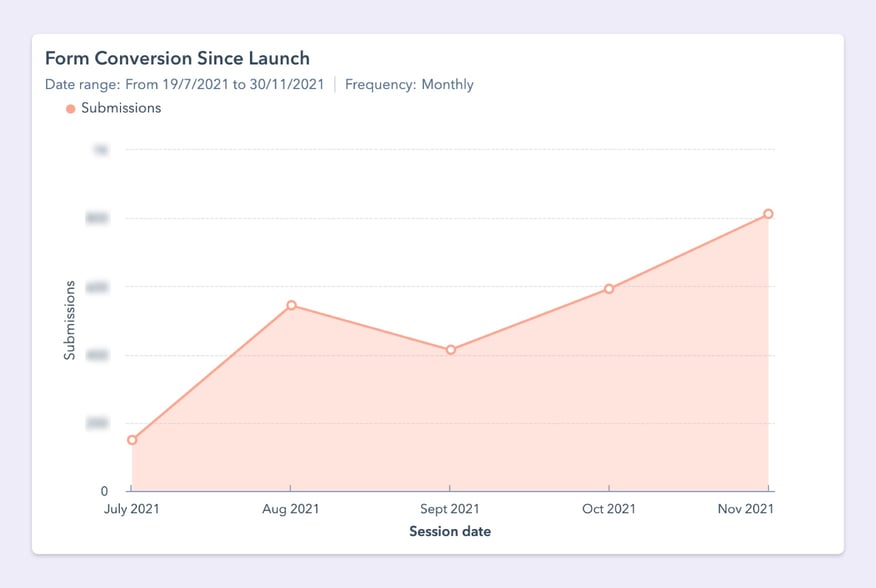 The Impact
Since going live in July 2021, Noggin has unleashed an invaluable new demand generation channel in the creation of their new website, attracted new customers and have grown their business. With continued support from ThirtyFour Creative through our Growth-Driven Design program, we're ecstatic to see the future of this fantastic global company.


"Working with ThirtyFour Creative has been probably one of the best vendor relationships I've had in my marketing career to date. Jarrod, the Founder of the company is incredibly communicative. He's helped us understand very clearly the scope of the project, the deadlines, the deliverables, made sure we were on track to meet all of our go-live dates and everything for our new website. The experience working with ThirtyFour Creative has been fantastic. I would recommend ThirtyFour Creative to any marketing professionals, potentially within the SaaS space or the technology space that are looking to drive real growth through integrated digital marketing campaigns."

Britt Lincoln - Global Marketing Manager, Noggin